Cabinet Painting in Lithia, Fl
Cabinet Painting in Lithia, Fl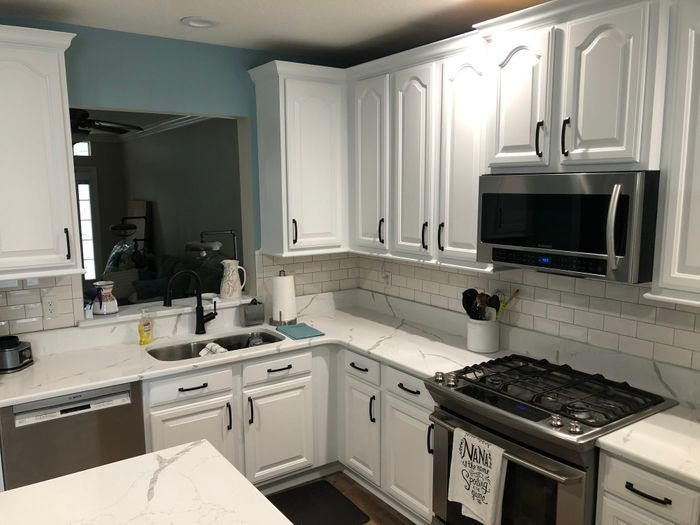 If you are in need of cabinet painting in Lithia, FL or any surrounding community, there is only one call to make and that is to The Cabinet Painting Company. Our company specializes in making cabinets beautiful again. Chances are your existing cabinets are not in need of complete demolition and replacement. The bases and shelves are solid and they are functioning properly. However, the doors and drawer fronts are dated and showing signs of years of wear and tear. You do not need new cabinets. You need cabinet rebeautification.
What is cabinet rebeautification? We believe that cabinets can be beautiful again, and we have created a process to do just that. Homeowners in Lithia needing cabinet painting can trust us to transform their existing cabinets into the visions of their dreams at a fraction of the cost of new cabinets. This process works on any type of existing cabinet, including:
Solid wood

Particleboard

MDF (medium density fiberboard)

Plywood

Thermofoil

Laminate

Melamnie

And more
No matter of what your current cabinets are constructed, our process will results in perfectly painting and resorted cabinets each and every time. Our team of professionals will uninstall your current cabinet doors and drawer fronts and safely transport them to our shop. Then, a painter will expertly prepare and hand-paint your existing cabinet bases. Back at our shop, our full-time, in-house painting professional will complete our five-steps to perfection process on your cabinet doors and drawer fronts. Following safe transport of these back to your home, our technicians will reinstall your doors and drawers, completing the process and leaving you with a beautiful, elegant, transformed space.
If you are ready to start your cabinet painting in Lithia, call us today to set up a free, no-obligation, in-home estimate. Our friendly and knowledgeable staff is ready to answer any of your questions and get you on the calendar.
What our customers are saying
KNOWLEDGEABLE
"I recently had my kitchen island cabinets painted to lighten up my kitchen space. The quality of work and professionalism by The Cabinet Painting Company was top notch. Everyone I dealt with through the process was knowledgeable and had such great attention to detail. Don't hesitate to trust this company with your kitchen as they will transform it into a new space!"
- Ameesh P.
POLITE
"We are so glad we found the cabinet painting company. We wanted to update our kitchen cabinets with a new color scheme and they turned out great. Their team was easy to work with, on time, polite and meticulous. We would highly recommend The Cabinet Painting Company to anyone interested in changing their cabinets."
- James S.
FANTASTIC
"They did a fantastic job! They quoted us the exact time frame from when we booked them to when they started. The cabinets have the feeling as if they were fabricated this color and we couldn't be more happier. The painter for the frames clean, communicative, punctual and came back for touch ups no problem! The entire staff was professional and super easy to work with! We are OBSESSED with our new looking kitchen and have absolutely zero complaints!"
- Laura G.