Project Start Day:
At The Cabinet Painting Company, we know how important it is for you to establish your perfect dream home. Whether you require cabinet repainting, cabinet resurfacing, or any other restoration service, our team is here to get the job done right! No matter if you want to improve the look of your kitchen or bathroom, our professional cabinet painters are dedicated to your ultimate satisfaction!
Contact us to get started today!
From start to finish, our entire team of experienced professionals will treat your home as if it were their own. To start with, we'll cover your counter tops and we'll put down runners in our work areas to protect your floors. We'll then systematically remove all of the panels (doors & drawers) being painted, and while doing so, we'll accurately mark all of the locations for proper re-installation. Once everything is pulled down, we'll clean up after ourselves and transport your panels to our climate-controlled, specialized spray facility.
Panel Processing in the Shop:
Our sales manager will be able to fill you in on our current "in-shop" timeline, to give you a better idea of when your panels will be completed, and the process is as follows:
Our professional cabinet painters will begin by meticulously prepping each panel in our state-of-the-art facility. Our goal is to leave you with flawless cabinets that look brand new, and our extensive prep process plays a major role in how we achieve that. Our prep consists of cleaning every surface by removing all of the dirt and grime, filling all cracks and imperfections, caulking, and finishing with a fine sanding technique so the paint can properly adhere to each panel. We then prime your cabinet panels with extremely high adhesion, solvent-based primers. After prime, the technicians will re-sand your panels, back up the caulk, and look for any imperfections that need to be addressed. Your panels are then racked and ready to receive our proprietary, factory-like finish coats of a high-technology acrylic paint product that has proven to stand up to the test of time. We truly believe that our finish is the highest quality and finest cabinet finish from coast to coast.
In between coats, your panels rest in our sealed and dedicated dry room, designed to keep dirt, dust, and particles off of your new beautiful finish. Once the last coat is applied, we allow the panels to sit for 3 days prior to transporting them for reinstallation to ensure sufficient dry time.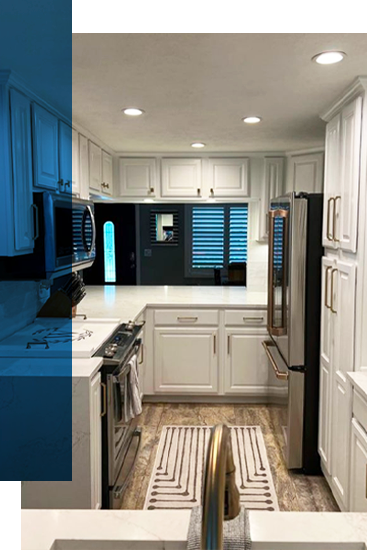 Frame Processing in Your Home:
Our field painter will come to your home and apply a custom paint finish to your cabinet frames during the in-shop panel processing time window. The process is similar to that taking place in the shop: cleaning, sanding, filling and caulking, vacuuming and tack-clothing all cabinet boxes, priming, and further sanding and cleaning. Finally, two coats of our proprietary paint formula, which won't yellow and are highly durable, will be applied, leaving a stunning finish.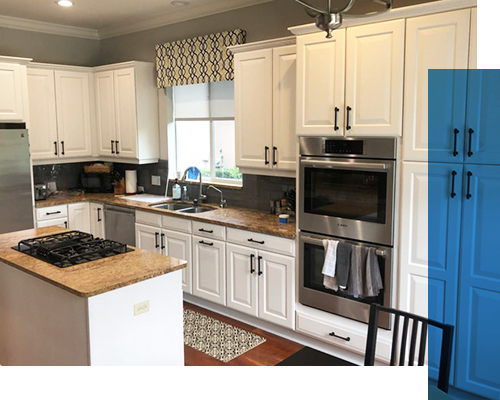 Reinstallation:
Once the panels are completed and ready for transport, our team will return and re-install hardware (new hardware if you chose to change it), doors, and drawer fronts in the correct locations, all with premium bumpers. Soft-close hardware is also installed, if initially ordered, and then we clean everything!
Our goal is to ensure that we've exceeded your expectations every step of the way, and all of our 5-STAR REVIEWS are proof that we're doing just that.
If you're ready for a free consultation, contact us today!
What our customers are saying
KNOWLEDGEABLE
"I recently had my kitchen island cabinets painted to lighten up my kitchen space. The quality of work and professionalism by The Cabinet Painting Company was top notch. Everyone I dealt with through the process was knowledgeable and had such great attention to detail. Don't hesitate to trust this company with your kitchen as they will transform it into a new space!"
- Ameesh P.
POLITE
"We are so glad we found the cabinet painting company. We wanted to update our kitchen cabinets with a new color scheme and they turned out great. Their team was easy to work with, on time, polite and meticulous. We would highly recommend The Cabinet Painting Company to anyone interested in changing their cabinets."
- James S.
FANTASTIC
"They did a fantastic job! They quoted us the exact time frame from when we booked them to when they started. The cabinets have the feeling as if they were fabricated this color and we couldn't be more happier. The painter for the frames clean, communicative, punctual and came back for touch ups no problem! The entire staff was professional and super easy to work with! We are OBSESSED with our new looking kitchen and have absolutely zero complaints!"
- Laura G.